What I Loved in January
16:06
I always love reading other people's monthly favourites posts so I thought it would be a good idea to start doing my own. I think they're such a great way to discover new products and also I'm incredibly nosey and like to see what everyone keeps in their make-up bags and bathroom cupboards...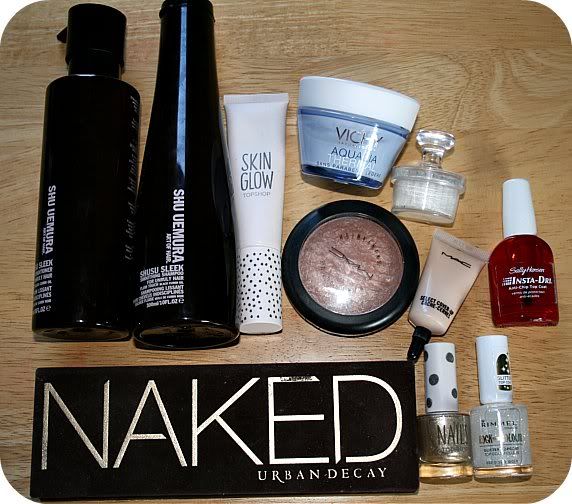 Shu Uemura Art of Hair Shusu Sleek: I used to think Kerastase Nutritive was the holy grail for my dry, frizzy hair but I had to use my mum's Shusu Sleek when I went home over Christmas and forgot my own shampoo, and I've been totally converted. I was sceptical at first because I'm used to thick, creamy conditioners and this one feels quite light but it really has made my hair softer and more manageable than I ever thought possible. It is more expensive but definitely worth it in my eyes.
Vichy Aqualia Thermal Light: I've got weird skin. It's a combination of dry and oily but not in the conventional sense: it's oily on the surface, especially on my t-zone, and doesn't feel tight or dry but at the same time feels like it's parched underneath. Does that make sense to anyone? Anyway, I felt like my usual moisturiser was just sitting on top of my skin and not really doing anything except adding to the oiliness, but this stuff sinks right in and feels like it's properly nourishing my skin. It makes a lovely base for my make-up too.
Topshop Skin Glow in Light: This is such a great, subtle highlighter. I use it on my cheekbones and around my eyes after I apply my foundation using the same brush and it gives me a lovely natural and dewy glow.
Urban Decay Naked Palette: This was on my Christmas list back in 2010 but unfortunately it was sold out everywhere at the time. However, I was lucky enough to receive it a whole year later and it was well worth the wait. I love Urban Decay eye shadows and I have lots of their palettes but this is by far my favourite. The colours are perfect for me and I've literally used it every day since I got it.
Mac Select Cover Up:
I get quite bad patches of blemishes around my chin and on my jawline but I don't really like wearing heavy foundations to cover them up. Instead I like to use a tinted moisturiser or a lighter coverage foundation and then blend this over the areas of bad skin, almost like a second foundation (watch
this video
to see what I mean). It's easy to blend and can cover my blemishes without looking cakey.
Mac Mineralize Skinfinish in Soft and Gentle: I love this stuff, it just makes my skin look amazing and it's a lovely highlighter.


The Body Shop Facial Brush: I guess this cute little brush is kind of like the (much, much) cheaper version of a Clarisonic. My skin is quite sensitive so I'm always worried about using normal exfoliators which can irritate it. Instead I've been using this a couple of nights a week with my usual facewash and I've noticed quite a difference in my skin since I started using it at the beginning of January. I wish I could afford a Clarisonic Mia but this seems to be a good little substitute for now.


Topshop Nails in Heart of Gold, Rimmel Rock your Colour Glitter Topcoat and Sally Hansen Insta-Dri: This combo has been my typical nail decoration throughout December and January and it always gets compliments. The Insta-Dri topcoat does exactly what the name suggests: it dries so quickly it's amazing, especially for someone as impatient as me!
What have been your favourite beauty products this month? If you've done a similar post please let me know in the comments, I love reading them.