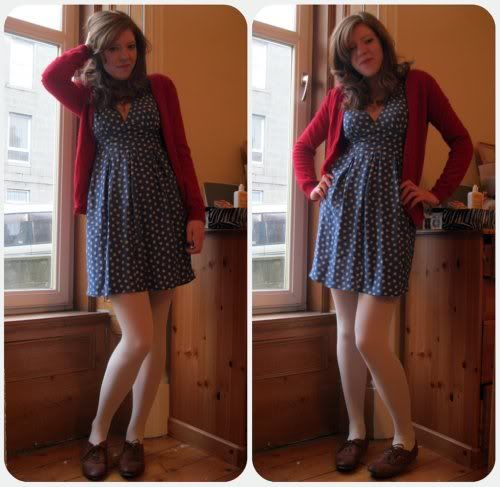 Dress - Topshop
Cardigan - F&F at Tesco
Tights - Topshop
Shoes - Primark

I didn't get dressed until 3pm today! I went out last night with my good friend Charlii and I think we may have had one too many tequilas... So I was feeling a little worse for wear this morning and have spent most of the day in my PJs eating porridge and drinking tea. Now that I've had a nice hot shower and put on a pretty dress I feel so much better.
I went to see
Morning Glory
at the cinema yesterday and I really enjoyed it. I thought Harrison Ford was absolutely perfect and Rachel Mcadams was so endearing as work-obsessed Becky.
If you haven't seen the trailer, it's about a young, career driver executive producer trying to save a failing daytime TV show. She hires Harrison Ford's character as a co-host and he is the most grumpy and incorrigible old man you could imagine and does his best to make her job even more difficult.
I haven't laughed so much at a movie in a long time and I think everybody needs to go see it!
Have any of you seen Morning Glory? What did you think?