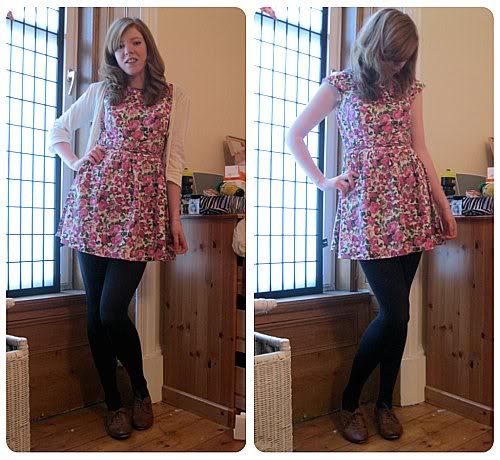 I'm so awkward in front of the camera - I always end up either looking at the floor or pulling a ridiculous face, as you can see above!

I got this dress from Tesco last summer - Tom and I were on a bit of a road trip to visit friends and when we stopped for petrol he sent me into Tesco to buy some supplies. I spied this dress for a cheeky £10 and knew I had to have it! I actually hid it in my handbag so that Tom wouldn't find out (he dosen't think I need any more clothes), but I'm terrible at keeping secrets and 'fessed up eventually.
Looking at these pictures now, I wish I had worn a belt to break up the florals but thanks to Gok Wan I'm always cautious about wearing waist belts because I see so many girls wearing them with everything and anything. Does anyone else think that or am I just being ridiculous?
It's less than two weeks until I jet off to Malawi to meet Tom and I'm so excited. I got my first round of vaccines today, which wasn't terribly nice. I don't mind needles too much but my arms do feel quite heavy and sore now, so I've cheered myself up this evening by watching Big Fat Gypsy Weddings and eating some yummy white chocolate and raspberry cupcakes.
What have you been up to today?