A lot of my favorite bloggers have done a 'What's in My Bag' post and, being terribly nosy, I've loved finding out what they deem essential enough to carry around with them everyday. I thought you all might be interested to find out what I like to keep in my bag...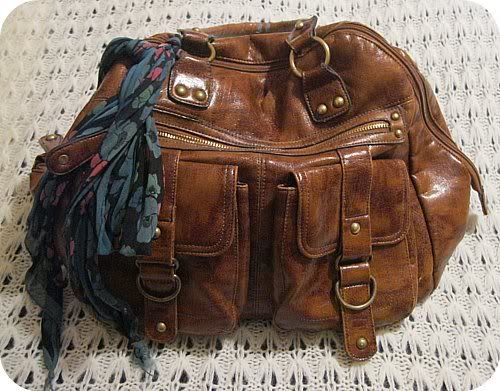 My current everday bag is this old tatty one from New Look. It's not my favorite but it does the job and it's the perfect size for all the crap I seem to lug around with me on a daily basis. I added the Marc Jacobs scarf to jazz it up a bit and if you look closely you will see that the ends are all ratty because I am constantly getting it caught in the zip, oops!
What's Inside: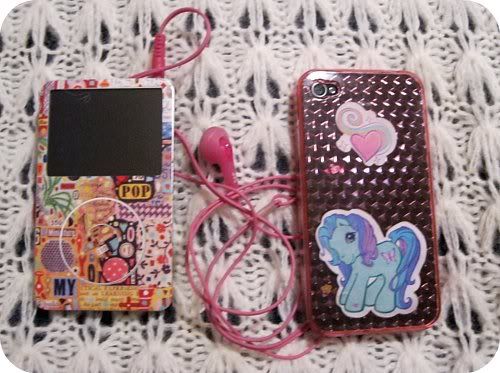 Ipod and Iphone
It may seem a little silly to have both, especially since I only listen to the same twenty or so songs on repeat for a few weeks, until I get sick of them, but I always prefer listening to music on my ipod rather than my phone. The ipod cover is from
Gelaskins
, it's like a protective vinyl sticker and I used to have a matching one on my old iphone (sad maybe, but that's how I roll).
I got an iphone 4 last week when my iphone 3 finally failed me. The cover is just a cheapo one from eBay and I jazzed it up with some stickers from my mum (yes, I am still a My Little Pony fan at the age of 22 and I'm not ashamed. I've got a collection of ponies dotted about my bedroom and for my 21st my mum actually bought me some old school My Little Pony episodes on DVD. I made my boyfriend watch them with me!)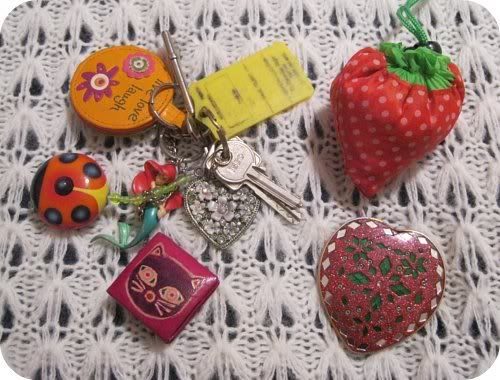 Keys, Mirror, Shopping Bag
That sweet little strawberry is actually a fold away shopping bag. I got it in my stocking at Christmas and I must say it's been very useful. I always try to take my own bags to the supermarket (I like to think I'm doing my bit for the environment, plus you get extra nectar points at Sainsbury's if you re-use!) so this is so handy for quick trips on the way home from work. Plus it's super sweet.
The cat keyring is actually a teeny-tiny coin purse and the ladybug has light up eyes to help you find your keyhole in the dark! My mum loves silly little quirky things like these and she's always buying them for me.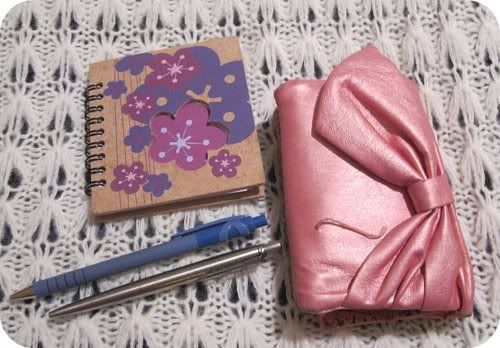 Purse, Notebook, Pens
Self-explanatory really. The purse is from Firetrap ages ago and the little silver logo fell off within about 5 minutes but apart from that it's holding up nicely. The notebook is filled with lists of books I need to read, movies I need to watch and things I need to look up on wikipedia.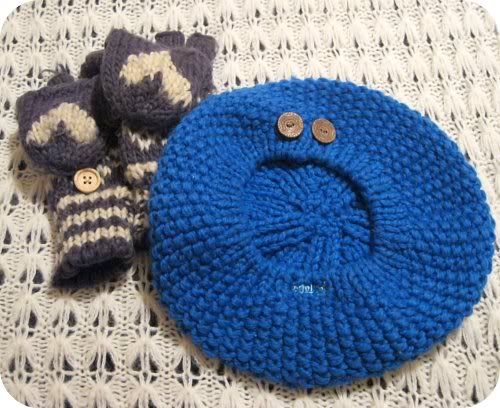 Hat & Gloves
Both christmas presents, the gloves from my mum (I think they're Accessorize)and the hat, which is from Fat Face, was from my boyfriend's mum. I don't wear the hat very often because I don't think it suits me very well, but I keep it in my bag just in case it rains, because my coat doesn't have a hood and I hate carrying an umbrella but I don't want to get 'rain hair'.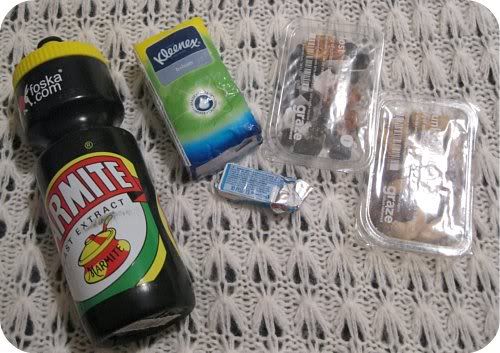 Water bottle, Tissues, Gum, Snacks
The bottle actually belongs to Tom and he has a matching lunchbox and cycling jacket. I've become addicted to
Graze
boxes - they are always so tasty and also the little boxes are perfect to keep in your bag in case of a snacking emergency. I think the ones in the pic are Lost and Funky Gibbon. If you've never tried Graze before then you totally should, especially since you can get your first box free with this code 8P5832X.
Hairband, Eye Drops, Spare Mascara, Rose & Co Rose Petal Salve, Frizz Ease Secret Agent
I've got super wavy hair and although I can tame it with my GHDs any hint of humidity or rain sends it haywire, but a dollop of Secret Agent cream always saves the day. I'd really reccomend it if you have frizz prone hair.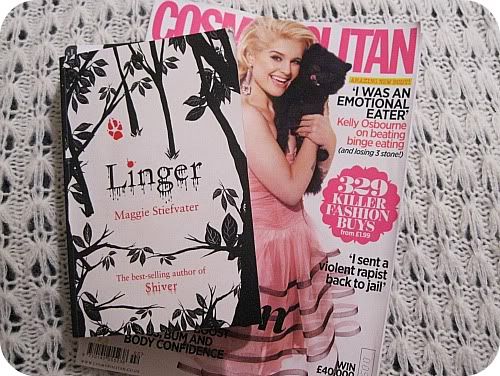 Linger by Maggie Stiefvater & Cosmo
I'm a bit of a YA fiction geek, especially when it involves anything supernatural, and in between reading 'proper' books I like a little light relief filled with lovesick teenagers. I loved
Shiver
, which is about a girl called Grace and her boyfriend Sam, who turns in to a wolf during the winter months. It may sound like another Twilight cliche but it's
so
much better (and free from grammatical errors and spelling mistakes). I got the sequel,
Linger
, for Christmas and since I started reading it the other day I've found it so hard to put down - I have to take it to work so that I can steal a few chapters when it's quiet. If you're a YA fantasy fangirl like me then you really need to read this series!