Return from Paradise
17:52
I'm back from Malawi. I actually got home last week but I've been super busy getting back into my working schedule etc so I haven't really had time for blogging.
I don't really have many photos from my trip because, to be honest, I was a bit too busy having fun! But anyway, here are a few snaps of some of the places we stayed...
We spent 5 amazing nights at
Mayoka Village
in our own little chalet on the hillside overlooking Lake Malawi. If you ever go to Malawi I'd definitely recommend visiting Mayoka. This is going to sound like an advert for the place but seriously, it's amazing. I think our chalet was about $25 a night, which is pretty cheap when you think about it, but they also had dorm rooms and a camping area for a lot cheaper. We spent our days swimming in the gorgeous water and our evenings chilling at the bar, where they had a different dinnertime special every night and super tasty cocktails. All the staff were so friendly and there was such a nice atmosphere.
I took the pictures above when Tom and I took the boat out for the afternoon - Tom did all the rowing, obviously, but we didn't get very far. The current was so strong that we spent half an hour totally stationary despite the fact that poor Tom was rowing like a madman...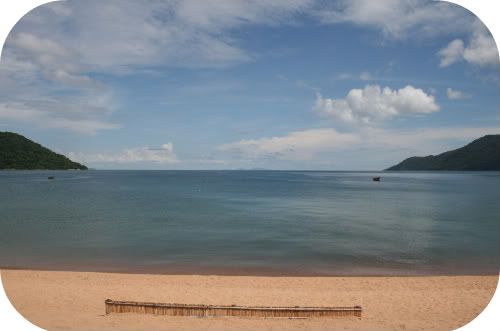 We traveled down to a place called Cape Maclear, where we stayed in a hut on the beach and the water was literally a few feet from our door. We spent a couple of nights there and it was so beautiful at night because all the fishermen go out in the dark with lights on the back of their canoes so it looks like the lake is full of stars.
Now I'm going to spend the rest of today catching up on all of your blogs so wish me luck, as the number of unread posts in my Google reader is rather intimidating!