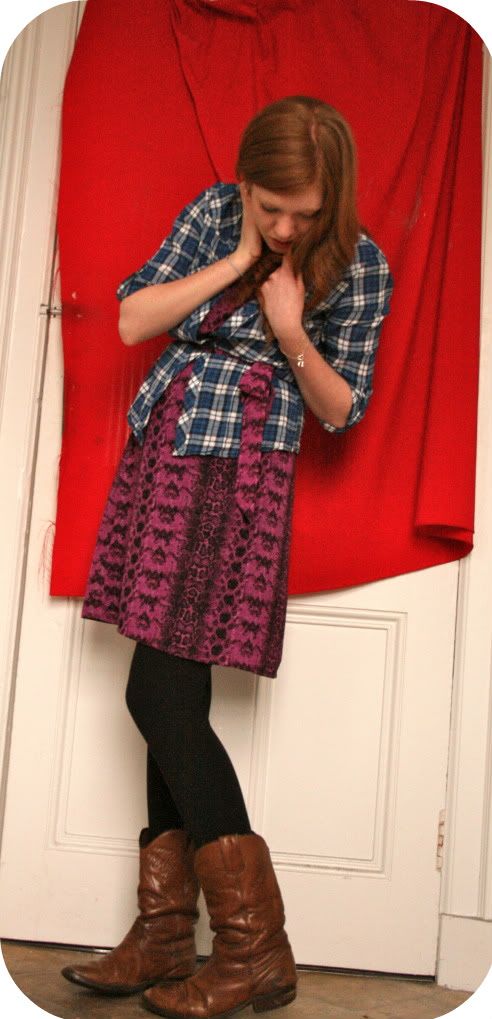 Dress - H&M, Shirt - Topshop, Leggings - American Apparel, Boots - Thrifted
These are the best boots ever - ridiculously comfy and perfectly worn in. I hate new shoes, I much prefer them scuffed and dirty! Whenever I buy new shoes I always wear them round the house for at least a few days before they get to see the outside world, so that they won't look brand new. Then I will wear them till they literally fall apart on my feet.
Is that weird?
My boyfriend is always complaining about how disgusting my shoes are!
This afternoon I'm heading off up to Inverness to spend a few days with my boyfriend. The train takes almost 3 hours but I secretly really enjoy long train journeys, especially when I'm travelling alone. It's so relaxing, because you can't go anywhere or do anything so you're perfectly free to just sit and enjoy your own company. I always read trashy magazines and sometimes just listen to my ipod and watch the world go by out the window.
This song by Missy Higgins is my favourite for listening to while on the train.