First Monday of Spring
17:46
Skirt, Scarf, Cardigan - H&M, Top (dress) - Topshop, Belt - Stolen from my dad, Tights - Accessorize, Shoes - Office, Necklace - Vintage
My boyfriend came home for the weekend and we spent our time enjoying lunch dates, watching movies with wine and takeaway, dancing in nightclubs, staying up till sunrise and sleeping till lunchtime. He caught the train back up to Inverness at 6am this morning so I've spent my day missing him, reading magazine and clearing out my wardrobe. I'm putting quite a few things on eBay this week, including lots of dresses, so I will keep you guys updated.
I made some banana, chocolate and fudge muffins the other day and since they were so tasty (if I do say so myself) I thought I'd share the recipe.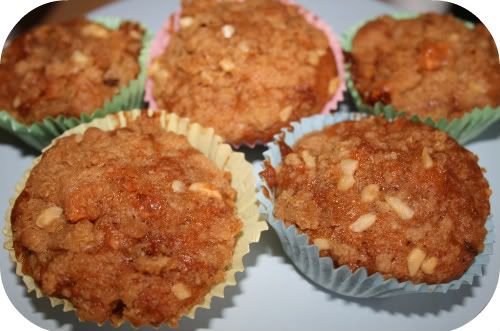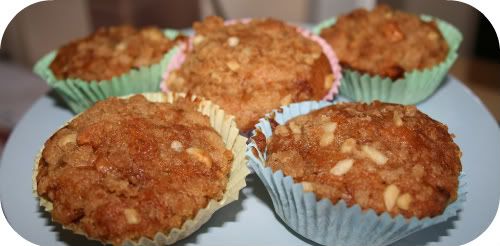 Ingredients
3 Ripe Bananas
125ml vegetable oil
2 eggs
250g plain flour
100g caster sugar
1/2 tsp bicarbonate of soda
1tsp baking soda
100g small fudge pieces
100g chocolate chips
First mash the banans then leave them on the side to go nice and gooey. Then beat the eggs and oil together. Sieve the flour, bicarbonate of soda and baking powder, then add the sugar. Mix in the eggs and oil, then the bananas. Fold in the fudge and chocolate, then spoon into a muffin tin lined with muffin cases. (I used cupcake cases instead so I got mini-muffins).
For the Topping
75g brown sugar
2 tbsp flour
1/2 tsp cinnamon
1 tbsp soft butter
Chopped Nuts (optional)
Mix all the ingredients together with your fingers till the mixture resembles fine breadcrumbs, then sprinkle over the top of the muffins before cooking. Bake in the oven for about 20 minutes at 200
°C/gas mark 6, until the muffins are nice and golden brown.